Qrocity Online Courses: Why do schools choose us for STEM Learning?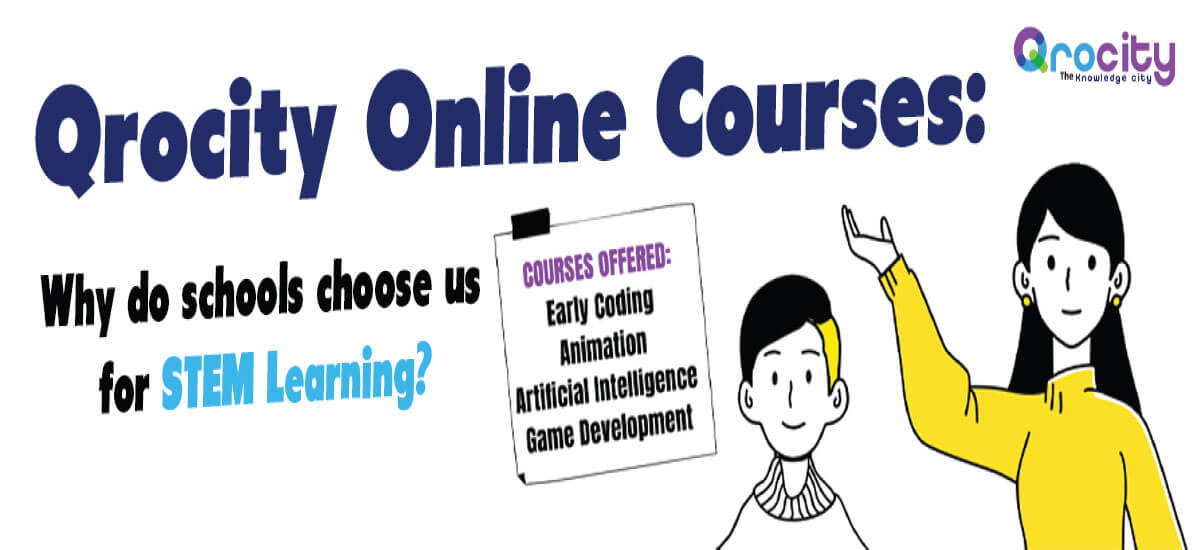 Covid has been successful in closing down all of our country's educational institutes, which is why many educators are struggling to find new ways to make learning fun and useful for students through online classes.
We want to successfully incorporate STEM education into school curricula, which will assist schools in developing a child's technological skills at a young age.
Courses Offered:
Early Coding (5+ age)
Animation (7+ age)
Scratch (7+ age)
AI Junior (11+ age)
Game Development (16+ age)
As the leading self-learning platform, our courses and assessments are designed to meet the need for technological skills in today's generation in order to prepare students for the future.
Why is it so important for Schools?
By exposing students to STEM and providing opportunities for them to investigate STEM-related concepts, they will develop a passion for it and, hopefully, pursue a successful career in a STEM field.
STEM employees earn 26% more than their non-STEM counterparts on average.
Whether working in a STEM job or not, students with STEM majors earn more.
A STEM background will be required for one-quarter of all future jobs.
There will be twice as many STEM jobs as non-STEM jobs.
STEM doctorates are paid 24% more than non-STEM doctorates.
What sets us apart from other online platforms?
We provide online assessments during class so that both the children and the school can measure the child's success.
Over the past two years, Qrocity has been teaching students aged 5 to 18 years and has trained over 5000 students.
It is India's first self-learning online class platform.
All of our courses are available at the most affordable prices.
Benefits of our courses:
Preparing for 21st-Century Problems.
Experiencing real-world problem-solving questions.
Concepts are targeted to various age groups.
Provides students with long-term learning outcomes for their development.
Experiment with projects to develop conceptual thinking
Facilitates Learning at Home Comfort
STEM Education is need of the hour
According to our findings, when used in conjunction with course lessons, STEM Learning can have a major effect on student trust and success, leading to:
A 71% rise in self-assurance
Completion of homework increased by 31%.
A rise of 14% in grades
Drop, fail, and withdrawal rates have all decreased by 17%.
We've seen incredible progress in the children who have enrolled in our online courses. So, take a step forward and register right now.
For more information, visit qrocity.com or email us at info@qrocity.com